The Mission
Corporate Care of the Sioux Empire provides meaningful on-site employee care to businesses in the region. Through pastoral counseling and encouragement, we build relationships with employees focused on bringing the type of care that God would bring in either personal or crisis situations. We are advocates for a healthy work environment through the power of Christ.
The Introduction
My name is James Swanson, and I am the founder of Corporate Care of the Sioux Empire. While on staff at a local church in Sioux Falls, I first began serving as a corporate pastor for a manufacturing plant in the area. During that time, however, my heart began to see a real need for an on-site, workplace presence where people could be taken care of in a safe and confidential way.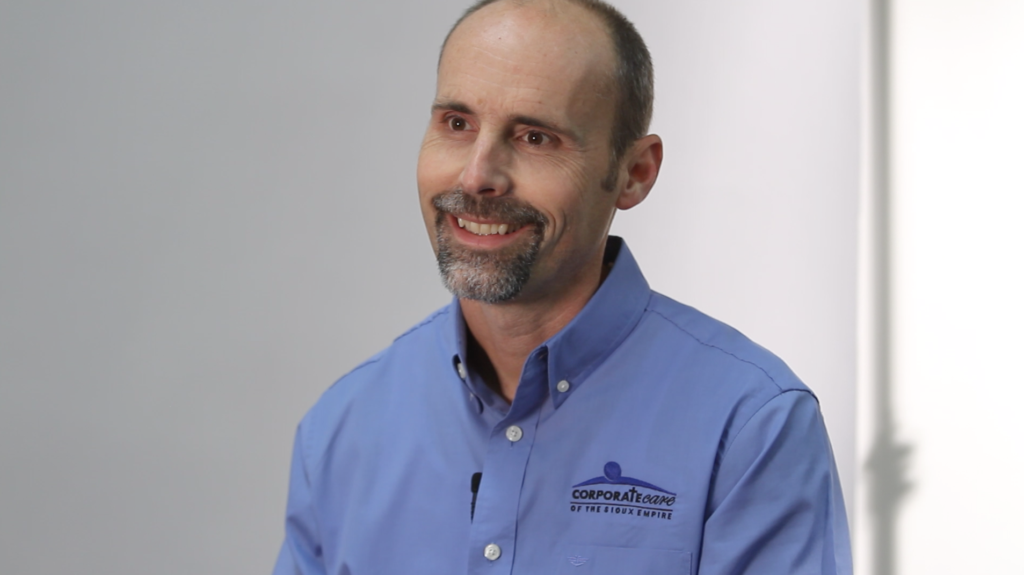 Corporate Care was launched in 2013 and today partners with nine organizations in the region, reaching over 900 employees within those organizations. I live in Sioux Falls with my wife and six kids.
I'm a reluctant entrepreneur, but I know this is what God called me to do, and I love taking care of people and their hearts. It has been my joy to see Corporate Care grow and help people in Jesus' name.
The Organization
Corporate Care is an organization that steps into the workplace to bring about healing and restoration. It's about being present with an employee where they spend most their lives: In the workplace. Through conversations, scheduled appointments and ongoing care, we build trust and become a part of the rhythm of their week.
When we care for employees, we deal with everything from strained relationships, financial stress, loss of a loved one or conflict or stress in the workplace. These kinds of hardships can affect an employee's productivity, their joy or their ability to have hope in what they are doing. In our time together, we will ask, "How can we approach a workplace problem in a way that you can be an agent of restoration or of good health?" It starts with an individual's heart, and within these conversations, they begin to see their own worth.
Through our interactions, employees begin to look outside themselves and realize how much their craft can impact the world and make it a better place. They see how important they are, that they have eternal value, and that they are worth investing in — not just because of the work they do, but the role they play beyond the workplace and to each other.
"Through conversations, scheduled appointments and ongoing care, we build trust and become a part of the rhythm of their week."
This realization has such a positive effect on a business. When an employee regains hope and joy for their work, they feel validated, appreciated and therefore are an even stronger asset to a company. They understand that they are not just there to earn a paycheck, but for a bigger plan in place — that they are uniquely made to pursue their craft excellently, and with joy.
We also support employers. Being the CEO or president of a company can be a lonely place. They are making huge decisions and carrying the weight of a company, and that can be an emotional burden. So to be able to come alongside them, encourage them and give them feedback on all the good things we are seeing with their employees is extremely justifying. They begin to understand that their employees are real people who have a lot going on in their lives, too, and these employers just want to serve them, bless them and communicate a value to them as individuals.
Outside of the workplace, Corporate Care also offers premarital counseling and has officiated weddings or memorial services. We also offer employee motivational speeches and work closely with entrepreneurs as they talk through ideas for our community.
The heart of Corporate Care is to be in every workplace where there is an open door. We want to step in to those places not based on the company's ability to pay, but based on the need. As a nonprofit organization, the more funding we are provided, the more we are able to offer our service and take care of employees who need encouragement and the good news of Jesus Christ.
The One
I once had an employee who came to me and had been working for a local business for almost 20 years. He said to me, "I'm going through a conflict with my supervisor, and I don't know if I can take it anymore." This person had even interviewed for a new job and was pretty sure he was going to be receiving a job offer. I said to him, "I understand, but before stepping away from a place you've invested two decades in, why don't you go to your supervisor and see their perspective? Allow your supervisor the opportunity to respond." Two weeks later, we met up again, and he said to me, "James, I've decided to stay. I talked with my supervisor, they apologized, and the whole thing has been resolved." Five years later, he's still there today.
Think about the cost it would've been financially to lose an employee who's been there that long — to replace them and the different ways they impacted the workplace for 20 years. This story is a great example of how Corporate Care was put in place to be a blessing not only for the individual, but for the company as a whole.
Situations like these are opportunities to step in and adjust our mindset and our attitudes and to realize how significantly our approach on life impacts other people. Our work is bigger than us. It is a God-sized work!